A grandmother has praised a new medical tattooing service being offered at Walsall Manor Hospital for women who have had reconstructive surgery following breast cancer.
Jennifer Bateman has recently used the new service and said the confidence boost the end result  gives to women is "priceless."
The 70-year-old, who used to work as an Emergency Department receptionist at the hospital, was first diagnosed with breast cancer in 1996 and had undergone treatment including radiotherapy.
"In February 2014 I was walking to the bathroom when I felt a lump," explained Jennifer, who lives in Walsall.
"I had been attending the hospital's breast cancer support group and knew I had to get this checked out straight away. It was investigated and turned out to be breast cancer again. I had a mastectomy and radiotherapy and underwent reconstructive surgery in November 2015.
"When I heard about the new tattooing service being offered at the hospital which creates an areola (the small circular area of skin surrounding the nipple) I decided to have it done. I am really pleased with the results – I caught sight of myself in the mirror just a few weeks back and it looked really good, really natural. The boost it gives to your confidence is priceless and that's really important for anyone who has been through breast cancer.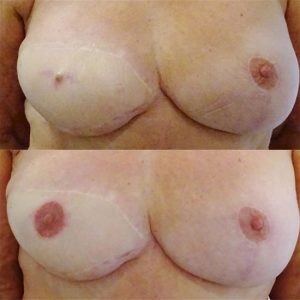 "I also want to say how marvellous Jayne, who was carrying out the procedure, was all the way through it too. She was lovely and made me feel relaxed. I think this is a wonderful service to be able to offer women."
Walsall Healthcare NHS Trust's Well Wishers charity has funded the new medical tattooing service which means women no longer have to travel out of the borough to receive it.
Jayne Kanwar, Macmillan Breast Advanced Nurse Practitioner, carries out the areola pigmentation after attending training sessions which was also covered by the charity donation.
The Trust will also be able to raise income by offering this service to women from elsewhere in the region.