Walsall Manor Hospital is conveniently located near to Walsall town centre, and is well served by both road and rail networks.
Getting here by car
The hospital is signposted on all major routes into town and is located only a short distance from both junctions 9 and 10 of the M6 motorway. The hospital is situated just off the A454 (Wolverhampton Road) with the main entrance accessed via Pleck Road. Please use WS2 9PS as the postcode for Sat Nav systems.
Car parking
Patients and visitors to the hospital should park in the main hospital car park (Car Park B) which is located off Moat Road.  Please see the hospital site plan below. Free 10 minute drop-off parking is available at the front and rear of the hospital. Enabling works for our exciting £36m Emergency Department and Acute Medical Unit development are now underway this will mean that Car Park D which is situated by our Modular Ward block is unavailable as of 9 November 2020.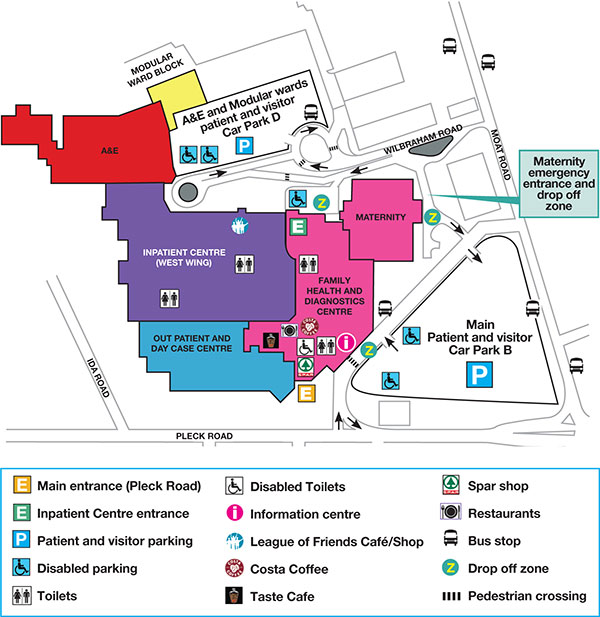 Car parking charges
Our Car Park situated at the front of the hospital (Car Park B) is an ANPR camera-controlled parking system which has been introduced since September 2019 Learn more here.
A ticketed system continues to operate on Car Park D (A&E). Both car parks display the same tariffs and are shown in the table below. Weekly concessionary passes are available for regular visitors to the hospital at a cost of £17.50. These can be bought at the Pay Station self-service machines.
| | |
| --- | --- |
| Tariff | Charge |
| up to 1 hour | £3.00 |
| up to 2 hours | £4.00 |
| up to 3 hours | £4.50 |
| up to 4 hours | £5.50 |
| up to 5 hours | £5.50 |
| up to 6 hours | £6.00 |
| up to 7 hours | £6.50 |
| up to 8 hours | £7.00 |
| up to 9 hours | £7.50 |
| up to 10 hours | £8.00 |
| up to 11 hours | £8.50 |
| up to 12 hours | £9.00 |
| up to 24 hours | £9.50 |
| Concessions | |
| Oncology | £0.00 |
| Renal | £0.00 |
| Weekly Pass | £17.50 |
Disabled and priority car parking spaces
Walsall Manor Hospital provides dedicated priority parking spaces for disabled 'blue badge' holders in addition to parent and child spaces. These are located close to the main entrances for ease of access.
Taxis and minicabs
Courtesy phones are provided near to both the front and rear entrances of the hospital for your convenience.
Getting here by bus
Bus routes 36 and 39 serve Walsall Manor Hospital. Bus operators and route timetables may vary. Please visit Network West Midlands for more information.
View a live departure board of buses that serve Walsall Manor Hospital.
Please note that bus routes 335 and 336 were replaced by route 36 as of Sunday 24 July 2018. Community transport services may also serve the hospital. Please contact the operator directly for more information.
Getting here by train
The hospital is a short walk from Walsall railway station which provides frequent services between Rugeley Trent Valley and Birmingham New Street stations.
Getting here by bicycle
Bicycle shelters are located at both the front and rear of the hospital, with space subject to availability.
Non-emergency patient transport
Patients are normally expected to make their own way to non–emergency appointments, tests or treatment. However for some people this is not possible and they may be eligible for the Non-Emergency Patient Transport Service (PTS)  if other alternatives are not suitable or appropriate.
Patients are also normally expected to make their own way home after their appointment or post discharge from a hospital stay.
Who might be eligible to use PTS?
This service is available if:
your medical condition means you cannot use other forms of transport without risk to your health
your mobility means that you would be unable to access healthcare by any other means
you need the skills or support of PTS staff before/during/after the journey
Examples include:
All stretcher patients
Some wheelchair patients
Patients whose health would be damaged if they used any other form of transport:
Patients being transferred between hospitals
Patients who require oxygen to be administered during the journey
Patients who need to be monitored during the journey
Renal dialysis patients
If you do not meet the criteria and there are no special circumstances, you will need to make your own travel arrangements to and from the hospital or clinic.
If you currently receive Personal Independence Payments (PIP) (formerly known as Disability Living Allowance Mobility Component) or have a vehicle under the Mobility Scheme you will not automatically be entitled to access ambulance transport if simply for mobility purposes. Consideration will however be given on medical grounds.
Personal Independence Payments are awarded to assist you with your daily life and that includes attending hospital appointments.
Can I bring someone with me? For example a family member or a friend
Only if this is essential to ensuring a safe journey for you for example if;
you are under 16 years of age – an escort must travel with you
you rely on a translator
you rely on a carer for communication
you have mental health issues which means that you must be accompanied by a known carer
In other cases, anyone intending to be with you for your appointment is responsible for arranging their own transport.
How do I apply?
If you think you meet the eligibility criteria, you or anyone on your behalf including relatives and carers will need to phone the booking team number on:
01922 721172 ext. 6555 or 0121 307 9112
The Booking Office is open from 8am – 4pm Monday to Friday.
It is important that you book your ambulance at least one week in advance. Un-booked escorts will not be allowed to travel.
When you phone to book your transport, a transport booking form will need to be completed, please have the following information available:
Personal details
Appointment letter with details
NHS number
If your condition improves or you no longer need transport please remember to telephone the above number and cancel your appointment to reduce unnecessary journeys.