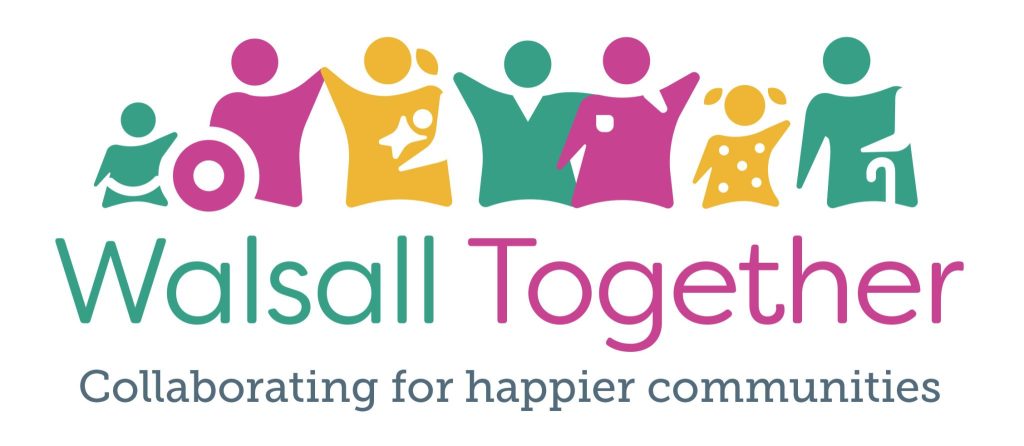 Walsall Together is a partnership of health, social, housing, voluntary and community organisations that are working together to improve physical and mental health outcomes, promote wellbeing and reduce inequalities across the borough.
We aim to work more closely together to reduce the widening gaps in health inequalities by focusing on not just health but the wider determinants such as housing, education and employment and the vital role that people and communities play in health and wellbeing.
Local voluntary organisations, charities, community groups and the people of Walsall are at the centre of this planning and decision making.
In doing this, we hope to understand the local population better, so we can better support people and the communities they live in, to manage their own health and wellbeing needs, prevent ill health and live happier lives.
Partners of Walsall Together include:
Housing (whg)
Voluntary, community and social enterprises (including One Walsall and Community Associations)
Healthwatch Walsall
Primary Care Networks (General Practice)
Walsall Healthcare NHS Trust
Walsall Council
Black Country Healthcare NHS Foundation Trust
NHS Black County Integrated Care Board
We aim to:
promote equality and reduce inequalities by focusing on the wider determinants to health
provide high quality and accessible care for all who need it
improve the health and wellbeing outcomes for the population of Walsall
develop a skilled, motivated, and happy workforce
make the best use of partnership resources
For more information on Walsall Together visit www.walsalltogether.co.uk