Book of Condolence: Areema Nasreen
This page is provided for those who wish to pay tribute to Walsall Healthcare NHS Trust colleague, Areema Nasreen,
who sadly passed away in the early hours of Friday 3 April.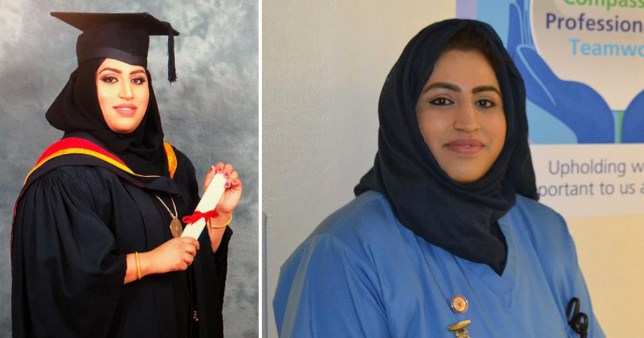 ---
Your messages
R I P Areema a very sad day when you left us my condolences to your family .
Our deepest condolences to all of Areena's family. R.I.P
A selfless hero who has dedicated her life to the help of others. May Allah raise your rank in heaven and give patience & blessings to your family.
Rest in peace Areema, you are a true inspiration to all health care workers. You achieved so much in your short life span. My best wishes with your family, may God give them strength and comfort.
having been brought up locally and serving the public locally, you gave the ultimate sacrifice...my thoughts are with your children whom you leave behind so suddenly.
RIP Areena. My condolences to Areena's family x
Condolences to Areema's family, friends and work colleagues. Nothing but praise for a wonderful colleague who will dearly be missed by all. Colleagues like Areema make me feel proud that I am part of Walsall healthcare. Thoughts and prayers are with Areema's children during this difficult time.
Rest in peace Areema, true hero x
Broken heart here. May Allah rest you in peace and reward you in the other world for your big sacrifice.
Thank you Areena, you are a true NHS hero. You have touched so many people that knew you and never had the joy of meeting you. Thinking of all your family, friends and colleagues at this sad time. x
It is so sad to hear that a professional colleague has lost her life to this destructive virus. My thoughts are with your family at this very sad time. May god grant you all peace ❤
I never knew you personally but am so saddened to hear this news. Thank you for your service to the NHS and may you Rest In Peace <3
Thoughts and prayers with your family, may they have the comfort of knowing you were an Angel and now safe with Allah - God bless you x
Rest in peace Areema, sending condolences to your famly xxx
I didn't know you but you have touched so many souls and have left a beautiful legacy that will continue encourage and guide so many professionals yet to come. Rest in peace and may the strength of the love from all at Walsall and beyond give some comfort to your family and children xx
RIP Areema, such a sad loss. My thoughts are with you and your family. X x
Thank you Areema for being a hero in blue. Our debts to you can never be repaid. May your love and light shine on your family and friends in this sad time. You paid the ultimate sacrifice looking after others; just know that you touched the lives of many and if it was not for you, others would not be alive among us. Rest easy xx
Rest in peace angel, a truly inspirational human being, condolences to your family
So sad to hear the news. May your family's and friends precious memories of you be of some comfort. Huge loss. Rest in peace xx
Sending thoughts to your family and friends at this terrible time. Walsall Manor have lost a valued, loved and inspirational Nurse and friend. RIP Areema you are our Hero xxx
---