Book of Condolence: Areema Nasreen
This page is provided for those who wish to pay tribute to Walsall Healthcare NHS Trust colleague, Areema Nasreen,
who sadly passed away in the early hours of Friday 3 April.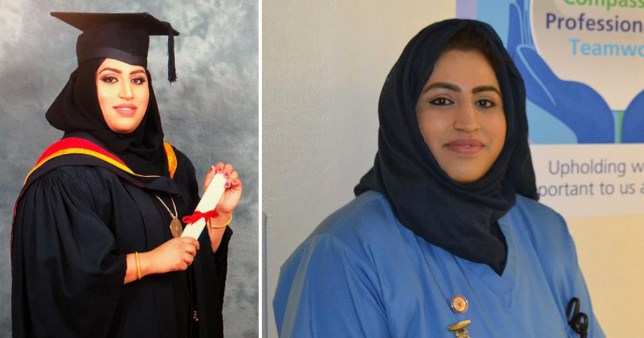 ---
Your messages
Such sad news. Thank you for all you did for our patients. Love to your family and friends at this sad time.xxx
Areema you truly was a inspiration to us all, you followed your dreams and was a leader in our profession. Sending my condolences to your family. You will be sadly missed by all at Walsall healthcare.
Sending my deepest condolences to all the family, friends and colleagues areema left behind. Your name will live on as a true hero taken from this earth helping others. Your a true inspiration to your profession. May you rest in eternal peace xx
Really hard to believe that you have passed away. Your work has been highly appreciated . May you Rest in Peace. Deepest condolences to all your family and friends
I am sorry I didn't get to know you better. However, after meeting you on AMU when you were feeling unwell you spoke so highly of your colleagues on AMU saying it felt the safest place to be at that time amongst your friends - a second family. I would like to send my deepest condolences to your family. May you rest in peace. x
Innah lillahi Wa Innah Elahi Rajioon. May Allah with blessings of his Luminous Prophet Muhmmad Sallu Allahi Wasalam bless you with the highest ranks of Jannah. Make your journey easy through barazak and give you a lofty place in the eternal world. Give your family the patience to accept this loss. Ameen
Thank you for all you did and the people you helped, you will be sorely missed. Thinking of all your family, friends and colleagues. May you Rest In Peace
True pleasure to have met and worked alongside you Areema. Very sad to have lost such a great colleague. Rest in peace. Sincere condolences to your family.
so sad to hear the passing of one of our nurses # r.i.p Areema thoughts and condolences to your family.
Areema, what a hero!?.. such a beautiful soul, taken too soon. Thank you for your dedication towards the NHS and your bravery, we are all so grateful. Condolences to your family and friends. You will be very sadly missed.. Rest in Peace Areema Nasreen 🌈❤
There are no words that can possibly help your family and friends Although we never met you are in my thoughts and thank you for your selfless work. I send love and deepest sympathy to your family, friends and colleagues. The world has lost a very special lady, may you rest in peace xx
RIP Bautiful Lady. You are an ispiration to your profession. Prayers and Love to you and your family.
Your story is inspirational, one of perseverance and unwavering dedication to patient care. May almighty give your family strength.
Our deepest condolences to all of Areemas family, friends and colleagues during this difficult time. A true NHS hero may you rest in peace ❤❤ x
R I P, thoughts are with your friends and family
Inna lillahi wa Inna ilayhi rajioon., May Allah swt give your family lots of sabr. A true heroine, who has shown commitment and dedication to her work. a huge loss to your loved ones. lots of duas for you and your loved ones xx
The sincerest and heart felt words of condolences can feel at the time of loss like falling snowflakes upon a battered foundry forge. For when the brightest star in your heaven has died and taken before her time nothing, especially words, can reach a heavy heart as it drowns aching into a painful void. But please hear these words: there is a great sincere shared sense of loss felt by all who knew her; and even by those who did not. I did not know of Areema but since working here at the Manor even I have felt the great emotional sense of loss that all members of Walsall Manor are experiencing. This truly shows Areema's greatness, everyone knows of her journey to become More and Give more to fulfil her caring and nursing Dream and in so doing shinning a bright light wherever she went. She will live long in the hearts of many………….
Our Thoughts are with the family at this sad time.A colleague who will be sadly missed
Such a sad loss to Walsall, Areema's positivity and commitment shone through and is greatly missed by all. Rest in Peace.
Such terribly sad news to hear of Areema's passing. Love to all of her family and friends. X
---