Book of Condolence: Areema Nasreen
This page is provided for those who wish to pay tribute to Walsall Healthcare NHS Trust colleague, Areema Nasreen,
who sadly passed away in the early hours of Friday 3 April.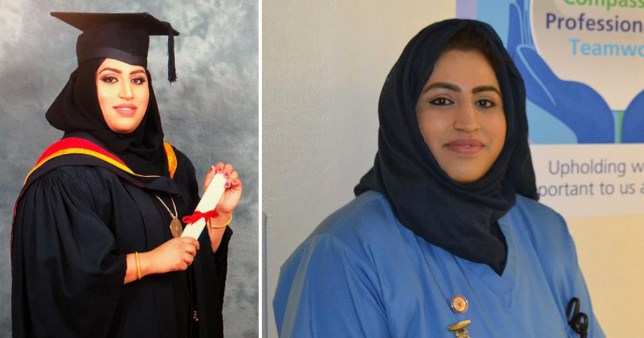 ---
Your messages
All our thoughts and condolences are with Areema's family and all those that knew and loved her. We are all saddened that we have lost one of our own. May she Rest in Peace xxx
Rest well Areema, we met at a Award ceremony six months ago glad I got the chance to spend the day with you and learn your Nursing story. thoughts are with the immediate family God as gained Angel.
Still see her smiling face from when used to be working together on AMU. Rest in peace Areema. My deepest condolences and Best wishes to her family in this most sad time.
Sending sincere condolences to your family. Areema may you rest in eternal peace.
It truly was a pleasure to have known you Areema. One of the most kind, friendly and genuine people I have ever met. Deepest condolences to your family at this very sad time.
RIP Areema, so very sad. thoughts are with your family and friends at this sad time. x
My thoughts are with your family. Rest in peace
May Allah swt grant you Jannatul Firdous and lighten your grave. You were an inspiration to us and you will be missed. May Allah swt give your family sabr and imaan.
Rest in peace Areema. Sending heartfelt condolences to your family and friends. You will be truly missed by all of your work colleagues here. May all of those that loved you be blessed with fond memories of you and may you shine bright in heaven. Thank you for all that you did for patients at Walsall Manor hospital and all that you did in your community. You have gone far too soon, you are a hero. God Bless x
Dearest Areema, you have touched the hearts of so many around the world. Your name will live on as a true hero who paid the ultimate price by helping others at this tragic time. God bless your soul ❤ My deepest condolences to your loved ones. RIP angel
Thank you Areema on behalf of the hospital and staff for your commitment to patients.
My respect for the life you lived Areena,you made a difference by being the person you were.My deepest sympathies to your family ,rest in peace.
Rest In Peace Areema thoughts are with your family and friends at this sad time xx
Areema you were loved by your family and colleagues and I am sure Allah (swt ) loves you even more as he has granted you a status of martyrs. May you rest in paradise and Allah grants your family Sabir-e-jamile Ameey
arema we pray to allah to grant you the best place in heaven.oue sympathies with your familly your sad demise is a big loss to yourchildren, familly members , friends and colleagues NHS has lost a dedicated selfless soldier in its fight. you have given an ultimate sacrifice in line of duty.you are a true martyr. you will be missed by all of us who knew you.
So very sorry for your loss, thinking of your family, friends and colleagues during this difficult time. May you rest in peace. xxx
Areema, I never met you, but your strength, kindness and passion are remembered by all that knew you. Your gift to us all was your heart and you will be always remembered. My saddest condolences to your family xxx
R.I.P Areema, my thoughts are with your family. xxxx
Condolences to your family and friends, RIP Areena, thank you for all that you gave to you patient's and people around you. Prayers for you.
Very sad to hear of Areema Nasreen passing. Myself friends and family are all very grateful of the dedication and care that Areema gave to our community though out her work at the hospital. Best wishes to her family in such sad times.
---