Book of Condolence: Areema Nasreen
This page is provided for those who wish to pay tribute to Walsall Healthcare NHS Trust colleague, Areema Nasreen,
who sadly passed away in the early hours of Friday 3 April.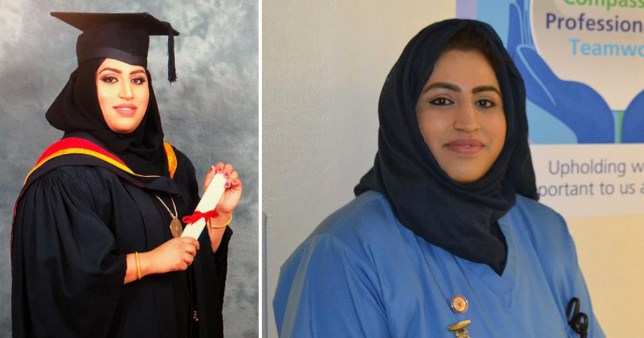 ---
Your messages
My heartfelt condolences to the family, left bereft from your passing. Your selfless attitude to your work is truly inspiring.
Heart-breaking - my thoughts go to the family of Areema and her children. May you rest in peace beautiful..... Such a loss to AMU and Walsall Manor Hospital. RIP
So sad to hear this, May Rest in Peace, thanks for helping others.
RIP Areema - sadly missed by all your NHS family
Hey reems babi, this news has truly broken my heart. All i keep thinking off is your infectious smile and laugh and all the hilarious times we had on shift together. There was never a dull shift with you on it. I will truly miss you and I know you will be missed by so many people. You were an exceptional nurse whose career had only just started. But I know that AMU will continue to carry on your amazing work. My heart goes out to all your family and friends. Rest in paradise my friend 😇❤
R.I.P Areema. Thank you for caring for the people of our community. You will be sadly missed by all the Walsall Healthcare family. Thoughts and prayers go out to your family and children at this sad time.
Heartfelt condolences to your family Areema. So sorry to hear of your passing. May you continue to shine bright in heaven, just like you did for the NHS xx
I never met you but have heard what a lovely person you were and how proud you were of your profession. My thoughts are very much with your dear family at this time. I hope they find comfort in reading these messages of love and support. You are an inspiration to others.
Such sad news. Condolences to her family. A hero to the NHS.
Thank you for all that you did you were so very brave and my thoughts are with your family xxxxx
My heart breaks for your children but no doubt you are now in a better place and one day as Allah swt promises, he will reunite you all. I never knew you but truly felt the loss. Inna lillahi wa Inna ilayhi rajioon.
So sorry to hear this sad loss for her family, friends and everyone at the Manor Hospital. Areema thank you for all your selfless work with the NHS, a Hero through and through. God Bless xx
Rest peacefully. Thank you for your sacrifice Nurse Areema. Xxx
So sad to hear the news. Inna lillahi wa inna ilayhi raji'un Deepest sympathies to the family. May Allah (swt) grant you the highest rank in jannah. May Allah (swt) grant your family sabr. May Allah (swt) protect us all and grant Shifa to those suffering.
I have never met you, but I feel like I know you. You were an angel on Earth, looking after those who needed you so selflessly, and inspiring us all to do more. May your soul rest in peace and your spirit live on forever.
Thank you areema, may Allah bestow upon you the highest of jannah... thoughts and preys to your friends and family 😭
For our tomorrows, you have your today. Our heartfelt gratitude and our sincere condolences. God bless you and all your colleagues in the NHS. We are staying at home to help to play our part. You are our hero 🙏🏼 🕯🕯🕯🕯🕯🕯
Such a desperate loss for her family, friends, the health care service and the country as a whole.
Thank you Areema for everything you done in our brilliant nhs you worked and sacrifice everything for us I'm so deeply grateful for your hard work and determination in your roll your going to be sadly missed by all my prayers to your family at this sad time god bless you xx
Fly high our golden angel, beautiful inside and out. Condolences to all the family xx
---