Book of Condolence: Areema Nasreen
This page is provided for those who wish to pay tribute to Walsall Healthcare NHS Trust colleague, Areema Nasreen,
who sadly passed away in the early hours of Friday 3 April.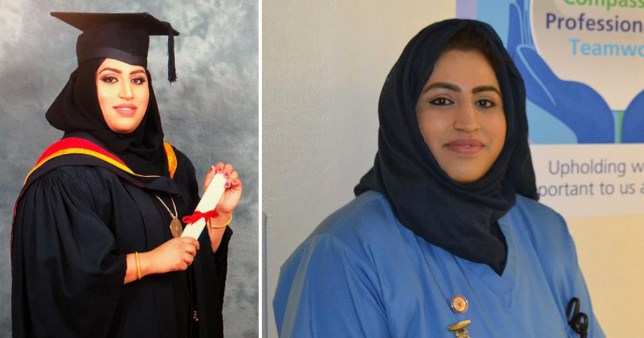 ---
Your messages
The people of Walsall are so lucky to have such dedicated and committed clinicians. Our prayers are with Areema's family and friends and the wider family that is our wonderful health & social care community.
Dear Areema, you will be missed within the nursing community. Dedication to our craft and to our patients. Rest In Peace Sweetheart. Sincere condolences to Areema's family and friends at this desperately sad time. we have lost one of our own. love always
Such a beautiful and caring person inside and out. I can't believe that this has happened. You were such an inspiration to many. I remember all those years on AMU working together, which will forever be a fond memory, and such a pleasure to have known you. Dedicated to the end. My condolences to your family and friends at this unthinkable time. RIP angel ❤
I like to pass on my deepest condolences to your family. My thoughts and prayers are with you in these difficult times.
From working with you as a CSW I knew you would make a fantastic staff nurse, you were always kind and compassionate to your patients and always went above and beyond for everyone you met.It was a great honour to have known you and worked alongside you Areema, may you rest in peace xx Sendng love and prayers to your family and especially your cherished children xxx
I didn't know her personally but i wants to pay my condolences and prayer to the family. May God always be with her children,give them strength at this difficult time. RIP Areema
May Allah swt grant you a high place in Janna and may Allah help your family during this difficult time. A true NHS hero.
May you rest in peace as a martyr to the cause. Ameen
Passing on my deepest condolences to your loving family at this difficut time Areema You were an inspiration to all who knew you, your dedication and commitment you gave as a nurse is forever in our hearts, you looked after my dad and I didn't want to leave his side, you reassured me and held me and gave me words of comfort I'll always cherish that moment Got rest your soul forever in our hearts, Sadly missed but never forgotten 🌹
You were so proud to be a Nurse and you were such a good Nurse. You cared for my Mom so well but you also cared for my whole family I will never forget you Areema. My thoughts and prayers are with you, your children and family. God speed Areema.
I have genuinely shed a tear for Areema. She was incredible nursing my Mum before Christmas. She showed so much kindness and compassion. She made a real difference. She was kind enough to go and speak to Mum and visit her when she was in a coma even on days she wasnt nursing her. She would ask daily how she was, even when Mum left ICU to go to the next ward. Areema played a huge part in saving my Moms life and I will be forever grateful and forever remember her kindness and compassion we saw first hand. Thank you so much, God bless and rest peacefully. 😥💔 our most sincere condolences to all of Areemas family and friends. X
My deepest condolences on the passing of Areema. Thank you for your selfless act and service. Thoughts and love to her family and friends. May you all find comfort in the memories of all the good and bad times that you shared. May her soul rest in eternal peace..Xx
R.I.P Areema. Thank you for your hard work and dedication. Sending my love and thoughts to your family xx
❤️❤️❤️🙏🏼Godbless you angel 😇 May you rest in Paradise 🌟r🌈 Big hugs 🤗 and Heartfelt love to your familiar this very sad time xxx
Areema, thankyou for your sevice, I'm grateful to have known you. Walsall has lost a true hero. Sending my love and condolences to your family. You will be sadly missed ❤
Sorry I never had the pleasure of working with you. But I pray that your family receives comfort from the Creator at this very sad and difficult time. In the words of Psalms 23 - may He 'lead you to beside still waters' to quiet and comfort your agonizing soul. May you be comforted in knowing Areena' chose to give of herself and served well! May she Rest In Eternal Peace. And may her children arise and call her blessed.
Sincere condolences to Areemas family and friends and to her family of colleagues. She was a special lady who will be sadly missed but not forgotten.
I didn't have the pleasure of knowing you personally Areema, but as part of the NHS Family I had to pass on my deepest condolences to your family and hope that during this difficult time they find the strength knowing how much you were loved. Heaven has gained another Angel , RIP
lovely Areema your passion your dedication and your love are an inspiration for us may God rest your soul and comfort your family
Your sad loss to your family, friends, patients and our profession is great. Our only consolation is that you were doing the career that you loved and had strived so much to achieve. On behalf of the Royal College of Nursing in the West Midlands my condolences and best wishes to your family.
---