Book of Condolence: Areema Nasreen
This page is provided for those who wish to pay tribute to Walsall Healthcare NHS Trust colleague, Areema Nasreen,
who sadly passed away in the early hours of Friday 3 April.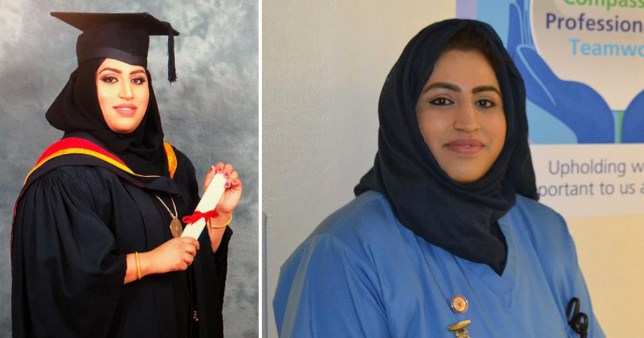 ---
Your messages
Areema you always had a lovely smile, at university and at work. rest softly now youre at peace x
My sincere condolences go out to Areema's family who have lost a daughter, a mother, a sister, auntie and grand daughter. Words cannot express what you are going through but she has left a legacy and a reputation that you can be sincerely proud of, caring for those who really needed her. Walsall Manor has lost a 'family member', a colleague and a friend who will be remembered and in our hearts for a long time. Rest in eternal peace Areema xx
I never knew you personally but such a sad loss, rest in peace, thoughts are with your family and friends and thank you for your commitment to the NHS during these difficult times. We applaud you all.
Inna Lillahi Wa Inna Ilayhi Rajioon. My sincere prayers for Areema and all of her family and loved ones. She was truly a kind and caring person, and a wonderful colleague who will be dearly missed. This loss will not be forgotten, a true NHS hero. May Allah reward Areema greatly and grant strength to her family. Sending lots of love and prayers xx
My condolences to the family of Areema. I do not know her personally but met her professionally in the AMU and she has been a dedicated and passionate nurse. Sorry to loose her young.
I first met you at uni , you were always smiling , which was contagious, you were a dedicated nurse a beautiful soul . Very striong beautiful inside and out. Thoughts are with you family and friends rest in peace true angel xxx
A great person and also a great mother to her children. May Allah(swt) grant her a high rank in jannah, ameen.
rest in Eternal peace Areema. Walsall manor will really miss you. prayers to your husband and children, fly high with the angels xxx.
I never had the pleasure of actually working with you but i did have the pleasure of handing my patients over to your care from A&E. I cannot belive that this has happened to you, you were a beautiful person and an amazing Nurse! The trust has lost an inspirational person but God has gained 1 amazing angel!! RIP sweetheart, thoughts and prayers go to you family 💔 x x
i didnt know you personally but heard you were special and kind. may you rest in peace, a true angel. love and best wishes sent to your children, family, friends and work collegues at this sad time xxxxxxx
Rest peacefully Areema. My thoughts and prayers are with your family, friends, colleagues and all who knew you.
I wish to send my deepest condolences to your family and friends. From what I have heard and read you were a committed and compassionate nurse. May you rest in peace.
I never had the pleasure of working with Areema, I too was a nurse and worked with many great nurses in my career but you will stand out for the sacrifice you paid to care for others with such professionalism and dedication. Sincere condolences to your family who I am sure through their grief will also be immensely proud of the legacy you leave.
Sleep tight Areema, it was a pleasure working with you when you were a nursing student in our community district nursing team. you were truly amazing as a student, embracing everything with all your heart. So sorry we had to lose you so soon, such a hard working and dedicated nurse, you will never be forgotten. Rest in peace.
My sincere condolences to the family, may she rest in peace very proud to state she was a very valuable member of the nhs team.
Areema was a friendly and happy person who always wanted to develop herself in nursing. She was a pleasure to know. My heart filled condolences go out to her family.
to Allah we belong and to him we shall return... I ask Allah to shed mercy on Areema and grant her high status in Janna amen.
I never had the pleasure of meeting or working with you Areema but can see from those who did what a dedicated, kind and caring nurse and person you clearly were. I am extremely saddened by the news of your untimely passing but alongside many others am extremely grateful and proud of you for all the care you selflessly provided to those whom you looked after. My wishes go to all your family and friends at this difficult time. Rest peacefully xx
I never knew you personally but from what I've heard you were a strong, brave woman who loved her job with a passion. May you rest in peace and we will never forget you and all that you've done for Walsall manor Hospital.
Inna lilahi wa inna illaihi rajioun Deepest condolences to your family at this time You are and will always be an inspiration to many May your soul rest in peace and noor (light) shines all around you. A beautiful soul will always be a beautiful soul ameen ❤
---