ReSPECT – Training
All patient facing staff are required to undertake ReSPECT training.
There are two types of training dependant on your job role – Authorship and Awareness.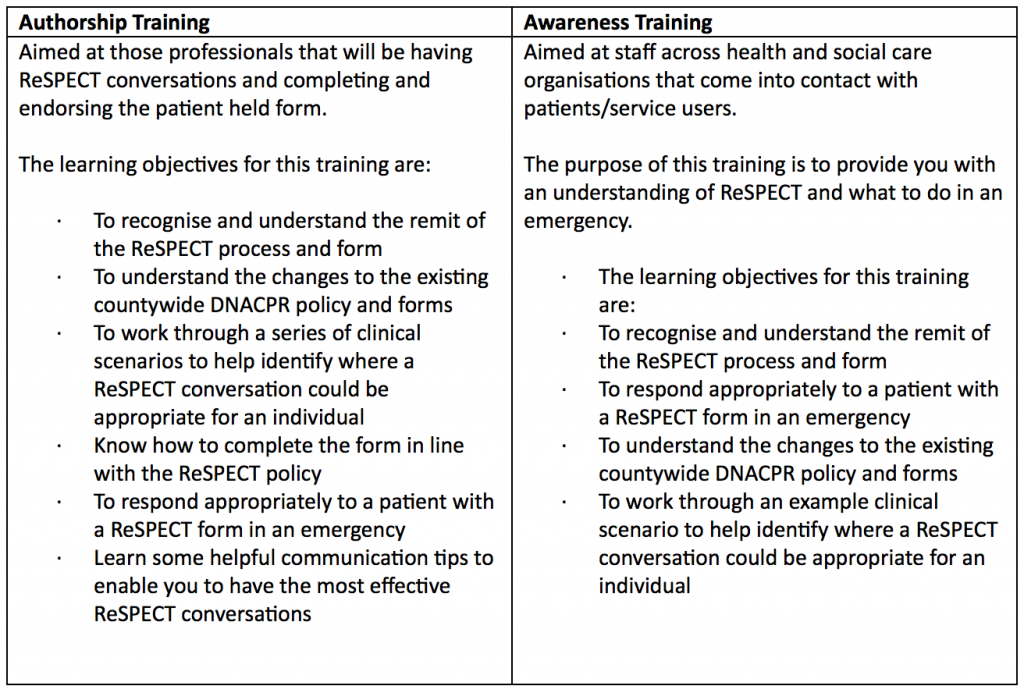 Below you will find a video which gives an overview of the ReSPECT process, who it is for and how to structure ReSPECT conversations as well as training slides for both the awareness and authorship training.
In addition to this there are a number of useful videos including how to complete a form, top tips for communication skills when having ReSPECT conversations and a number of case study examples.
How to fill out a ReSPECT form
Communication skills for ReSPECT conversations
The following case study videos have been developed and shared by Worcestershire Health and Care NHS Trust below:
Case Study One: Emergency active treatment 
A ReSPECT form does not always mean that resuscitation is not recommended

In an emergency situation, when no ReSPECT form is available, life-saving treatment should be given if considered to be in the best interest of the patient
Case Study Two: Living with frailty & lacking capacity
For patients without capacity, the best interest decision making process should be followed when completing ReSPECT forms

All assessments of mental capacity where specific decisions need to be made regarding care & treatment and/or DNACPR should be recorded on the MCA 1

All best interests decisions made regarding care & treatment and/or DNACPR should be recorded on the MCA 2 form
Case Study three: Acutely unwell, no ResPECT form 
ReSPECT can be initiated in any care setting including the Emergency Department

ReSPECT can be used to record DNACPR recommendations

There should be a presumption in favour of patient involvement [in the DNACPR decision]
Case Study four: Palliative case 
ReSPECT is complementary to other advance care planning initiatives, such as Advance Care Plans & AMBER care Bundle that is used for patients in hospital with uncertain recovery

ReSPECT is a patient held form & must travel with the patient & be reviewed upon a change of setting or condition

ReSPECT forms can help patients to prioritise their preferences for care & treatment and agree realistic clinical recommendations and ceilings of medical intervention
Case Study five: Chronic illness 
ReSPECT forms should sign post to other documents such as Advance Care Plans & Advanced Decisions to Refuse Treatments

ReSPECT can be used to outline preferences for place of care for medical treatment and place of death but also recognises these are 'preferences' not absolute

ReSPECT forms can be effectively utilised for patients living with chronic illnesses for emergency care planning