Book of Condolence: Areema Nasreen
This page is provided for those who wish to pay tribute to Walsall Healthcare NHS Trust colleague, Areema Nasreen,
who sadly passed away in the early hours of Friday 3 April.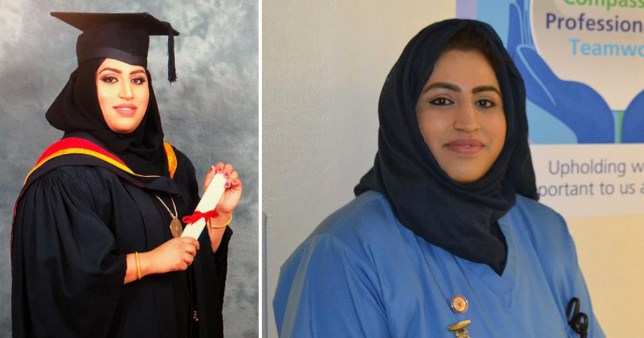 ---
Your messages
RIP angel. I'm heartbroken to hear of your passing you worked so hard to become a nurse I first met you when you worked in housekeeping you were always smiling. Myself and the other patients on the ward all said you were a smiling angel. My thoughts love and strength go out to your husband and children as well as your family and friends in their difficult time. I hope you are at peace and looking down to protect your family. Fly high xxxx
My love, heart and prayers go out to you and to thank you for everything you have done to help people over you career. Rest in peace xxx
To such a kind hearted beautiful lady. You have done the NHS and the UK proud. I didn't know you but just wish to send my condolences to your family and friends. I'm sure they are very proud of you and your children will grow up knowing what you did and the courage it took to go into work everyday. Forever in my thoughts Areema. Sleep tight beautiful. Xxx
RIP Areema!! Your're amazing what a great NHS hero🤍 my thoughts and condolences are with her family, friends and her colleagues💙
I didn't know you that well but have one memory of the time it was Ramadan you transferred a patient to us and seen me there looking tired you asked if I'd had chance to open my fast I said no and you rushed and got us both a glass of water we stood looked at each other drank the water and sighed with relief. May Allah keep you close to him and give your children the patience to overcome this it's truly heartbreaking.
Rip Areema, you were truly a lovely nurse, condolences to your family and friends.
I did not no you personally but I just want to say thankyou for all that you did whilst working im sorry your life has been cut short by this terrible covid 19 from what I have read about you you was a credit to the NHS and a ball of sunshine so every time that sun shall shine I will think of you Rest easy now thinking of your children and your family in this terrible time ❤️❤️❤️ xxxx
RIP Areema sad news today. Love to all of your family and friends xx
Thoughts and condolences to her family. A true NHS hero 💕 R.I.P AREEMA 💞
So very sorry for your loss, at this time it may be hard to hear how much we are grateful for her service but we are, and all the people she has cared for will be forever grateful. Love to all friends and family.
so very sad to hear of your passing, sending condolences with love to all family xxx
Fly High Angel, Thoughts and prayers to your family and friends. True inspiration to the nation, NHS Hero ❤️
Rest in peace. Thoughts go out to your family & friends xxx
So sad and so close to home R.I.P staff nurse Areema Thoughts are with your husband, your three beautiful children and all you knew Xxxxxx
Seeing the news this morning that staff nurse Areema nasreen has passed we would like as a family to pass on our deepest sympathies she was a true hero I met her only once last year on my admission into hospital and she was truly a caring angel very professional made me feel safe at a time I was in deep suffering Please pass on our condolences to her family and her colleagues Once again we thank you all for your heroic effort and hard work in a very frightening time please all try to stay safe
Such a lovely kind caring and passionate nurse, my thoughts ,prayers and condolences go out to all her family, friends and work colleagues xxxx
Broken hearted for your family a kind loving lady gone too soon rip xxx
I had the privilege of interviewing Areema about her career and described her as "a ball of sunshine" because she was so passionate about her role as a Staff Nurse and her enthusiasm was infectious. I'd like to pass on condolences to her family and thank our wonderful colleagues for all they did to care for her. The best tribute to Areema is for us to continue to inspire future nurses to continue her good work.
Rest in peace Areema. Her journey was inspirational and she will be sadly missed. Condolences to her friends and family.
---