Book of Condolence: Areema Nasreen
This page is provided for those who wish to pay tribute to Walsall Healthcare NHS Trust colleague, Areema Nasreen,
who sadly passed away in the early hours of Friday 3 April.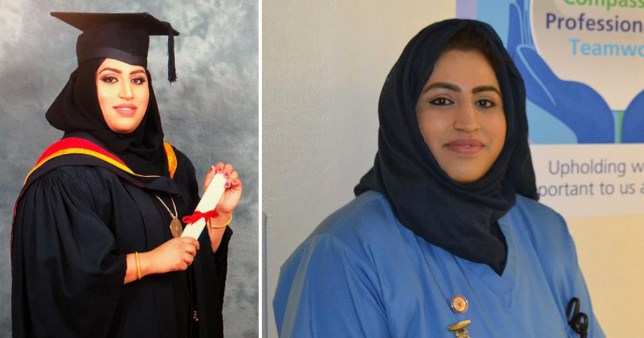 ---
Your messages
Fly high with the Angel's sweetie . Thank you for all your dedication for making people's lives better. So sorry you had to leave us so soon 😢😢 Condolences to your friends and family ,colleagues
RIP and thank you . My thoughts are with your family X
You gave your life for your community. May Allah SWT grant you jannah inshallah. Gone but never forgotten 👸💔 you will love on in the hearts of all your loved ones and everyone you have touched 💓
Rip may ypur 3 beautiful children be loved like you did and let your memories continue. Such a cruel world rest in peace lovely
We love you and you are an inspiration to all of us, the story of how you overcame obstacles to become a nurse is always going to be celebrated and never be forgotten. Like many people , when I saw your passion, enthusiasm and selflessness in your work , it reminded me why I chose to be a nurse.....you never took this for granted and have given everything, everyday for other people. You will always be with us x x x x
Areema it was an absolute pleasure being part of the 116 walsall student nurse family alongside you. You were always a beautiful person inside and out. Fly high with the angels, and may you rest eternally in paradise xxx
Rest in peace beautiful lady , my thoughts and prayers are with your family , a true Angel xx
Sending our love and thoughts to Areema,s family . Your beautiful smile and dedication to nursing will not be forgotten. As a nurse in Walsall for many years. It is such a sad day. May you find peace in your next journey knowing the people of Walsall will always remember. 😥💔❤
May your soul rest in peace.You were beautiful inside and out....a lovely mother and an amazing inspirational nurse ....I will always keep our laughs in my heart.My thoughts are with your family 💔 High fly Areema 😢
RIP a true angel. Taken too soon. All my love to your family. You are and was a very special and dedicated nurse. Fly high xxxx
I didn't know you personally but I wish to pay respect. Thankyou for your work may you rest in peace xxx
Rest in Paradise. Thank you for all the work you did and the world will be a little less brighter without such a shining star. My thoughts with your family and friends at such a horrible time.
You was a fantastic work colleague, you always brought me up when I was down! You was the nicest nurse anyone could of wished to look after them. Thank you for always helping me along my time at the hospital. R.i.p darling you will be missed so much😪
Sleep tight Angel your are one in a million xxxx
I am deeply saddened at the loss of one of our own wonderful nurses. I hope it will be of some comfort to Areema's family to know how much she was loved and respected by her friends and work colleagues and will be sadly missed. God be with you Areema and May you rest in peace. My deepest condolences to your family. Thank you for your service to the Manor Hospital. You will not be forgotten. Mary Francis - retired Critical Care Sister.
Thank you for everything you are truly an inspiration and it's been an honour to have had met you in the course of my job you were always happy and helpful xx you have left a legacy xxx
My deepest condolences to your family & friends. You put your life on the line for your job. You are a true NHS hero. May God give strength to your family during this difficult time. R.I.P Areema .💕💕
Areema you were a dedicated nurse with a heart of an angel. My deepest condolences to your family at this sad time. All your work colleges will miss you deeply, fly high sweetheart you will never be forgotten 💔
Areema R.I.P sweet Angel .God bless you Gone too soon.You will be missed by so many .love Sara Xx💖💔
RIP Areema .Thinnking of all her family especially her husband and children ,and work collegues at this sad time xx
---