Book of Condolence: Areema Nasreen
This page is provided for those who wish to pay tribute to Walsall Healthcare NHS Trust colleague, Areema Nasreen,
who sadly passed away in the early hours of Friday 3 April.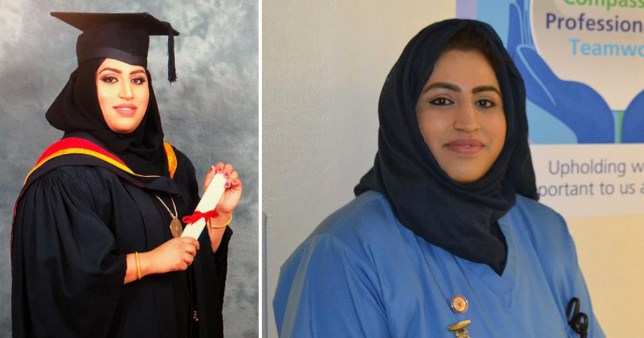 ---
Your messages
You made the ultimate sacrifice to save others Areema. God bless you and thank you from the bottom of my heart. Thoughts are with your family. Lesley Tipper.
Sleep in peace sweet angel,you gave your all,godbless Anne(retired nurse)
From 1 nurse to another....Areema you angel. There is a whole lot of love out there for you, you are a true NHS hero. Sleep tight & sweet dreams. My thoughts are with you & your family 😆
Thank you for your hard work and dedication. May you Rest in Peace and Rise in Glory. Sincere Condolences to your family. they must be very proud of you. Br. Andy +
REST IN PEACE SWEETHEART THANK YOU FOR EVERYTHING YOU DID AT WALSALL MANOR HOSPITAL XXXX🙏🙏🙏🙏🙏🙏🙏🙏🙏🙏🙏🙏
Rip thank u so much for your service in the nhs we are so proud your were our nurse , my love and condolences to your family and friends , I have so much positivity from friends about you and kind words only xxxx rip beautiful
I didn't know u personally but reading what a lovely caring lady u was has touched my heart 💓 it's such a shame u have left behind ur family & friends but u have fought hard and u have gone out this world having helped others and achieving what ur dream ... may u rest in paradise lovely ... thoughts and prayers to all the family xx
Areema you were a dedicated, hard working lovely person to work with as a student nurse. You will be greatly missed but forever a part of the Walsall 116 nursing family. We will all continue to nurse and care for those in need in your honour. 💖
Areema. We met on AMU and you were great, you will be missed dearly by friends, family & patients. You were a one of a kind, thoughts are with your family & colleagues.
As a nurse at the trust this has completely floored me. I did not know you personally but have seen the outpour of love for you from so many which speaks volumes about the person and nurse you were. So sorry you're family have to go through the loss of such a wonderful person. RIP xxx
To God we belong and to him we shall return. Love and thoughts to the family. NHS hero ❤
Areema cared for my mom in critical care just a few months ago. She was a fantastic nurse and helped our family through such a difficult time. My mom thankfully survived and I will always be grateful to Areema for everything she did for us. A true beautiful angel, taken far too soon doing the job she was made for. Rest in peace Areema, sleep tight xx
I first met you Areema when you came to work on Kestrel Ward as a HCA, I was given the role of your Assessor, and what a privilege it was you were a kind and caring person who went on to be a much loved and respected Staff Nurse. Rest in Peace Angel, always in our thoughts and you will be missed emensely xxx
RIP beautiful lady my thoughts and prayers are with your family , gone but you will never be forgotten
May you rest in peace, thank you for your service and commitment to the nhs.!
What an absolute HERO you are, you risked your own life to take care of other people. Sadly you paid the ultimate price with your life! R.I.P beautiful lady My thoughts are with the family and her babies 💔
We can never thank you enough for putting your life on the line for the people of Walsall. May you rest in peace and NEVER be forgotten.
I had the privilege to work alongside areema during her time working on intensive care. Will always remember her kind nature and desire to help and learn. She was an amazing nurse and a beautiful person. Thoughts and prayers go to her family.
My deepest condolences to the family, friends and colleagues on the loss of the dedicated nurse Areema. Thank you for your service to the residents of Walsall, you will be missed by many. R.I.P #NHSHERO
---