Walsall Manor Hospital's Pharmacy department, located on Route 239, is a modern facility offering expert knowledge on the use of medicines and delivers a full range of pharmaceutical services, including:
Distribution to patients in all Walsall Healthcare NHS Trust Sites, and also both St Giles Hospices (Walsall and Whittington)
Dispensing of Clinical Trial medication
Medicines Information services to hospital doctors, nurses and general practitioners, community pharmacists and members of the general public
Provision of a unique medicines management pharmacist service to NHS Walsall Clinical Commissioning Group, with pharmacists based in GP surgeries around Walsall
Specialist aseptic preparation services including Total Parenteral Nutrition (TPN) and Cytotoxic Drugs for patients receiving chemotherapy
Clinical pharmacy services to a range of wards including Paediatrics and Maternity, Critical Care, Specialist Medicine, Surgery and Geriatric Medicine
We provide a ward-based medicines management service to improve the speed and safety of patient discharge
Out of hours On Call Emergency Service 365 days a year
The aim of the service is to ensure that all patients get the maximum benefit from the medicines they receive, and that medicines are managed safely within the organisation.
The Pharmacy Team
Pharmacy staff is comprised of Pharmacists, Pharmacy Technicians, Assistant Technical Officers and Administrative Support.
Pharmacists must be registered to work in the NHS. For this they need a degree in Pharmacy from one of the Schools of Pharmacy approved by the General Pharmaceutical Council (GPhC) then undertake a one year pre-registration period within a pharmacy, followed by a GPhC exam. All qualified pharmacy courses are at Master's Degree Level and are four years in length.
Pharmacy Technicians, like pharmacists must be registered with the GPhC. In order to register they require an NVQ level 3 in Pharmacy services or equivalent. The training involves both practical experience and study at a college or by open learning. It usually takes 2 years to complete.
In hospital, there are several grades of Pharmacist and Pharmacy Technicians. Both can specialise in areas such as medicines management, technical services, medicines information, procurement, information technology and staff training.
Assistant Technical Officers (ATOs) work alongside pharmacy technicians and under the supervision of a pharmacist or senior pharmacy technician. ATOs have a range of roles and responsibilities including dispensing, distribution and procurement.
All Pharmacy staff are there to help patients. If you have queries relating to your medicines please do ask the Pharmacist or Pharmacy Technician that visits the ward you are on during you inpatient stay or contact the Main Dispensary on the contact number below.
Medicines and your stay in hospital
When you come into hospital, you can ask for a green bag to put all your medicines. This:
helps Healthcare staff record accurate information on all your medicines
allows you to keep your medicines safe
helps avoid delays in discharge; as your own medicines stay with you.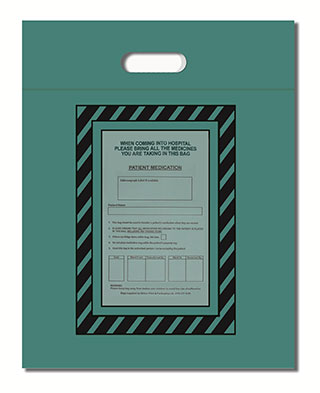 If you are coming to hospital for an inpatient stay, please remember to bring your medicines in with you and any information you may have in relation to the medicines you routinely take at home. In this way we can ensure you continue to receive the correct medicines during your stay in hospital. Where appropriate these medicines will be used during your inpatient stay. This also helps us to reduce the burden of medicines waste to the NHS.
During your stay in hospital your consultant will be responsible for prescribing any medication and the nurse looking after you will administer your medication to you. In some instances it may be possible for you to continue to administer your own medicines yourself whilst you are in hospital. Please discuss this with the nurse looking after you.
Pharmacists and Pharmacy Technicians work closely with the doctors and nurses on the ward to ensure that all medication use is appropriate and is used safely. They are also there for you to ask any questions about your drug treatment and they will provide any information you require upon discharge to enable you to continue taking your medicines safely.
A Pharmacist or Technician will be at your bedside at least once during the day and will introduce themselves to you so that you have the opportunity to ask any questions about your medication treatment.
Pharmacy Patient Forum Group
In October 2014, the Pharmacy Department set up a Pharmacy Patient Forum Group (PPFG) which comprises staff from the Pharmacy Department and members of the public who use the Trust. The main aim was to discuss ideas and share experiences from Trust Members, and to support the Pharmacy Department in implementing changes to enhance patient safety and experience. The Group contributes to the existing work in delivering the Trust's promises for achieving excellence in patient experience.
The work of the PPFG has been recognised nationally:
Article published in "Trust Connect" magazine in September 2015
Article published in "Pharmaceutical Journal" online September 2016 and in "Clinical Pharmacist" October 2016
Presentation given to 'Friends of Expert Patients Programme' September 2016
Article published in "Trust Connect" magazine in October 2016
Hospital Pharmacy Europe Live 2016, Poster Presentation at Exhibition November 2016
Presentation at 'West Midlands Innovation Day' November 2016
Presentation at Dispensary Managers Meeting December 2016
Presentation at Members Forum Meeting December 2016
Winners of the Clinical Pharmacy Congress 2018 "Excellence in Hospital Pharmacy Practice Award" – April 2018
The Group always welcomes new members, so if you'd like to get involved in the work of the PPFG, contact the Pharmacy.
MAIN PHARMACY OPENING TIMES

West Wing, Route 239

Days
Opening Times
Monday to Friday
9am to 6pm
Saturday
10am to 3pm
Sunday
11am to 2pm
Bank Holidays
10am to 2pm
OUT PATIENT PHARMACY

OPENING TIMES (in Outpatient building)

Days
Opening Times
Monday to Friday
9am to 4.30pm
Saturday
Closed
Sunday
Closed
Bank Holidays
Closed
Pharmacy, Hospital Route 239
Walsall Healthcare NHS Trust
Moat Road
Walsall
West Midlands
WS2 9PS
01922 721172 ext. 6743 (Pharmacy Dispensary)
Service lead
Gary Fletcher, Director of Pharmacy
Email: gary.fletcher@walsallhealthcare.nhs.uk
Patients should come to the Pharmacy dispensary counter on hospital route 239 with their prescription.