Hello and welcome to the student focused page of Team FORCE – Research, we'd like to thank you for taking an interest in Research as part of your studies and we are confident that this first step will lead to greater understanding and thus a more fulfilling career.
Why Research?
In this short video our Clinical Academic Link Tutors explain importance of research to students, why not take a look?
Safe, effective and innovative practice depends on a workforce that is research confident, and we feel that the earlier that you are exposed to the research, the better the outcome later in your career. We aim to give students an understanding of the role that research has in assessing, evaluating and improving practice, as it is imperative that all students comprehend the role evidence based practice takes in healthcare. Students need to know how evidence is gathered and analysed and how findings can influence professional clinical practice.
It is important, as students, that you do not just learn how do things, but also why you do them. This will lead to a greater understanding of the link between clinical practice and research and enable us to bridge the theory-practice gap.
Getting Involved
Currently we are not able to offer students placements within Research, this is something that we are diligently working on and we hope that we will be able to offer them soon, though in the meantime if you like to spend a day with us please contact us on either walsall.research1@nhs.net or extension 5794 to discuss this further and book in advance.
Through spending time with the team we want students to be able to appreciate the importance of research, the implications it can have on the quality and impact of projects, the career opportunities available and the research that they may undertake in the future. Our aim is to provide students with real life experience of the research journey and to have a positive impact on patient care through research while demonstrating our trust values of respect, compassion, professionalism and team work.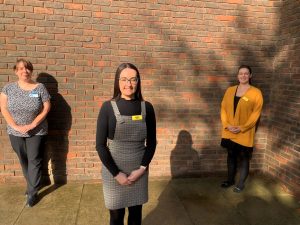 Clinical Academic Link Tutors
Julie (Left), Amber (Centre) & Sarah (Right)
"The beautiful thing about learning is that no one can take it away from you." ― B.B. King