Hello and Welcome to the patient focused page of Team FORCE – Research. For this page our team wanted to focus on the impact that Research can have on a patient and how it could improve their lives, and to that end we have included information on; what we feel are; the key benefits of being involved, a first hand account from one of our research ambassadors (who has been through multiple trials) and helpful links where you can find out more information.
Benefits to Patients
Firstly before we get into the benefits of being involved in a research trail we want to stress that participation is completely voluntary, and although our research nurses may recommend that you join, ultimately the decision is down to you. It is also important to remember that even when you are participating in a trial you can withdraw at any point without having to give an explanation, so if you feel unsure about the commitments of a trial or don't feel you are getting a benefit, you don't have to continue. Turning down participation or leaving a trial will also not affect your future care pathway in any way and also won't have any impact on you joining different trials in the future.
The advantages of taking part in a study and having access to a research nurse are many:
Watch this video for a first hand account of being involved in a research trial from one of our Patient Ambassador's Alexandra Jane Scotter
> Having access to a research nurse and taking part in a clinical trial gives participants access to treatments that may not be widely available as standard practice, also if it is a commercially sponsored study,  then participants may get access to high cost drugs with no extra costs to the NHS.
> All research studies are run according to strict protocol guidelines, this may include extra scans and blood tests that may give participants extra peace of mind; however some may see this as a disadvantage.  Alongside these extra tests ensures access to doctors and not having to wait months for results or follow up appointments.
> Many clinical trials have a longer follow up period than maybe normal practice in order to collect robust amounts of data, therefore this this can be seen as an extra safety net and the research nurse being an extra point of contact for the participant.
> If a participant is taking part in for example an oncology trial and the treatment is not working as well as we would of hoped, the research nurse can work with the consultant in charge of your care to look into other clinical trials available at other hospitals and if it is suitable you can be referred there for further access to pioneering trial treatments.
> The ultimate advantage of taking part in a research study is that you are contributing to the long term treatment plans and health of our future society.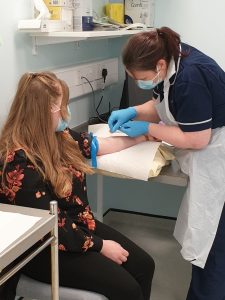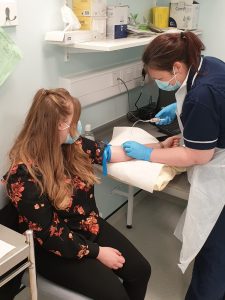 If you would like to learn more about research, we've put together a few helpful links to get you started:
> For information on the different types of research, the NIHR have a great guide that explains everything in detail, you can find that here.
> If you want to find out more about research trials that are happening nationally, including those surrounding Covid19, take a look at the Be Part Of Research website, which you can find here.
> If you are interested more in research on a global scale, the World Health Organisation has a portal that provides access to clinical trials all around the world, you can find that here.
"Healing takes courage, and we all have courage, even if we have to dig a little to find it." ― Tori Amos