Clipp is a coaching model which enables students to lead a bay independently. They are observed and coached by a supervisor to ensure a support net is available throughout the experience. This model of learning originated in Amsterdam and has been adapted in the UK. It is distinct from the traditional mentorship model in both the way practice learning is organised and in the philosophy that underpins how students learn.
Key drivers
• Enhancing the student placement learning experience in order to enable attainment of competency and proficiency
• Enablement of high quality supervision and coaching in the current climate of staff/supervisor shortages and increasing demands on nursing time
• Need to attract, recruit and retain into nursing roles – a good placement experience = recruitment
• Need to increase capacity to secure the above and future of the profession.
Evidence
• Students rapidly develop confidence and leadership as they coach each other as well as being coached. Additionally students take great responsibility for their learning and are more satisfied with their clinical practice than those students undergoing traditional supervision (Hellström-Hyson et al (2012)
• Students who are coached rather than taught/mentored develop sound clinical reasoning and decision making skills and preparedness to take on role of RN (Secomb, 2008, Hellström-Hyson et al., 2012)
• Increased job satisfaction for coaches and the clinical team (Fact Seeking Visit, 2017)
• Increased recruitment to clinical areas where CLiP is embedded (Lobo et al 2014).
How it works
Students are allocated practice assessors for formal assessment, the practice assessors, or a delegated practice supervisor will work with the student to develop the initial learning plan.
The practice assessor will not work routinely with the student, relying predominantly on feedback from the Supervising team, thus increasing inter-assessor reliability.
The practice assessor will provide formal assessments at Midpoint stage and Endpoint stage. They also assess episodes of care in that placement area.
Several students (e.g. 4/6) are allocated to a team on any particular shift, the practice supervisor is responsible for a group of patients, however the care is primarily organised and delivered by students. The practice supervisor will 'coach' the students for all the relevant activities and accept delegation of care as appropriate.
Students take responsibility for designated patients for all care delivery including liaising with MDT after one week bedding into the placement area. First, second and third years are expected to work collaboratively together in caring for their group of patients, supporting and advising each other.
Reflection sessions with all students take place once a week.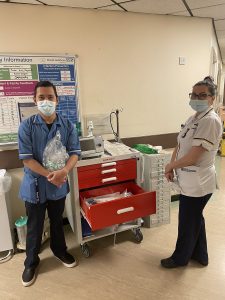 Implementation
Planning and preparation of staff is key, we have several models that can be shared and developed. Students are introduced to the concepts in the preparation for practice sessions and further prepared as part of placement induction.
Use the Links below to watch a short video explaining each element.
Reflection
Check out this video of some students from the University of Plymouth reflecting on the CLiPP model.
Please take the opportunity to complete a short survey to tell us what you think about the CLIPP model.
There are two options for your survey based on how you experienced CLIPP:
Please choice the one that is correct for you.
"Tell me and I forget, teach me and I may remember, involve me and I learn." ― Benjamin Franklin